I have become the proud owner of a gorgeous leopard print coat (faux of course) thanks to ebay. As I type it is on its way in the mail and hopefully will arrive on Tuesday. Right now in the land of OZ it is actually summer and a winter coat is last thing I could possibly want to wear right now. So I thought i'd share some of my inspiration for when I can finally wear it. Of course Kate Moss owns one...
and in different lengths...
Sienna's been seen in ones...
As has Alexa Chung...
Julia Restoin-Roitfeld owns one...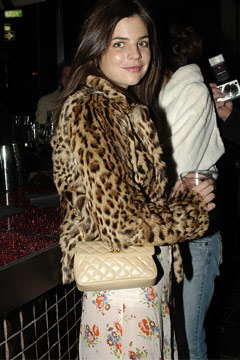 And one of my favorite characters from film, Alabama from 'True Romance' wears one...
I think the key when wearing such a coat is keep it simple or keep it casual